Food Forward

This project is a rebrand for the organization Food Forward, fighting hunger in Souther California through sharing abundance.
---
Background
CORE VALUES

CREATIVITY
We seek to innovate in all facets of our work.

JOYFULNESS
We cultivate a meaningful, fun, positive and spirited work environment.

COMMITTED TO FOOD JUSTICE
We believe that access to wholesome food, and fresh nutritious produce, is not a privilege, but a right. We work hard to end food inequality and reduce food insecurity.

AUTHENTICITY
We are transparent and honest in our words, deeds, and actions. We act at the highest level of integrity.

DISCIPLINED
We are reliable, professional, accountable, rigorous and committed to excellence in all areas of our work, both internally and externally.

COMMUNITY-MINDED
We aim to include and connect people in the community and to remain open, diverse, respectful, and accessible. We take pride in offering people meaningful volunteer and work experiences

Their WHY:

According to the NRDC, up to 40% of food in the United States is wasted. At the same time, 1 in 9 Californians lacks adequate access to food. Food Forward presents a simple solution to this disparity by connecting surplus fresh fruits and vegetables with people experiencing food insecurity in our communities.



Key Words:


Community // Giving // Fresh // Fight Hunger // Abundance // Share

---
Current Logo

In January 2009, Rick Nahmias was walking through his neighborhood in Valley Glen, California with his dog and stumbled—almost quite literally—upon the concept that became Food Forward. Rick realized the vast amount of wasted fruit in his own neighborhood could become a sustainable source of nutrition for the food insecure. With only two volunteers and a single backyard, over 800 pounds of fruit was produced from the first "pick." In the last 9 years, Food Forward has rescued over 60 million pounds (240 million servings) of fresh local produce.
---
New Logo
Food Forward provides an innovative, cost-effective, scalable, and replicable solution to the increasing need for food donations and the shortage of nutritious options available to our Southern California neighbors in need.

As they grow and expand, this logo aims to communicate quickly and efficiently what they do and where they're going!
---
Logo Variations
---
Colors
Primary
Secondary
---
Form Variations
---
Patterns
---
Typeface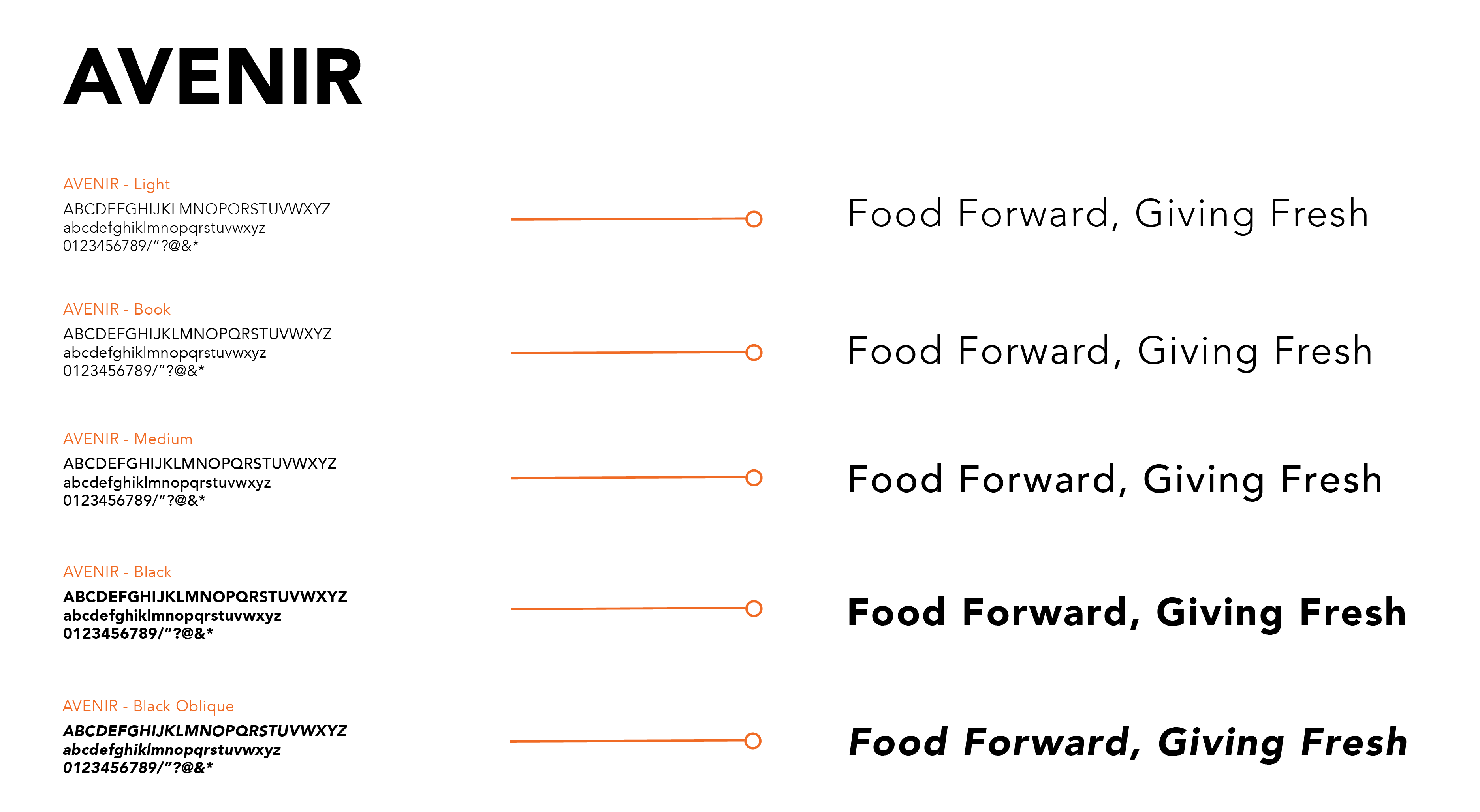 ---
Advertisement